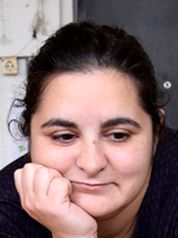 Elena Gheorghe, visual artist with a Sculpture specialization, was born in 1981 in Constanța. She attended the courses of the University of Arts from Bucharest, the Faculty of Fine Arts, the Sculpture Department, at the sculptor Mihai Buculei's class, graduating in 2004. Her diploma thesis presents an Amphitheater in which the characters of her daily universe are presented as actors, the stage becoming a scene and a battlefield.
Her creation reveals an interest in sacred art, a permanent search for the divine, an aspect easy to be identified both in her sculpture and in her painting.
The small scale portraiture plays an important part in her work, pursuing to grasp a characteristic atmosphere of the portrayed. The figurative that she has constantly changed, adjusted, simplified, flows throughout her entire career. However, the Human Being remains the eternal Winner of her universe.
The love for monumental sculpture began in 2010, as she was working with Mihai Istudor, soul mentor of the artist.
The creative camps invite her to explore various materials, including ceramics, wood, stone, marble, but also the bronze, the most frequently material to be found in her gallery.
The artist's hope lays in the Rehabilitation of the individual to his original Human nature. Through her art, Elena Gheorghe tries to recreate a route map to the heart of this labyrinth called "life", starting from her own personal experience.
Elena Gheorghe, artist vizual cu specializarea Sculptură, s-a născut în 1981 la Constanța. Urmează cursurile Universității de Arte din București, Facultatea de Arte Plastice, secția Sculptură, la clasa sculptorului Mihai Buculei, absolvind în anul 2004. Lucrarea de diplomă prezintă un Amfiteatru în care personajele din cotidianul artistei se află în postura actorilor, tribuna devenind astfel scenă și câmp de luptă.
În lucrările sale regăsim interesul pentru arta sacră, o căutare permanentă a divinului, aspect ușor de reperat atât în sculptura cât și în pictura ei.
Portretistica subdimensionată joacă un rol important în demersul său, urmărind surprinderea unei atmosfere caracteristice celui portretizat. Figurativul, căruia i-a adus în permanență schimbări, ajustări, simplificări, inundă palmaresul artistei de-a lungul întregii cariere. Totuși, Omul rămâne eternul Premiat al universului său.
Dragostea pentru sculptura monumentală a debutat în 2010, lucrând cu Mihai Istudor, mentor de suflet al artistei.
Taberele de creație o invită către explorarea diverselor materiale, printre care: ceramica, lemnul, piatra, marmura, dar și bronzul, cel mai întâlnit material în galeria sa.
Nădejdea artistei este în Reabilitarea individului la natura sa inițială, de Om. Prin lucrarea sa, Elena Gheorghe încearcă să recreeze o hartă traseu către inima acestui labirint numit "viață", pornind de la experiența proprie.
EDUCATION
2004 – BFA, Faculty of Fine Arts, Sculpture, National University of Arts of Bucharest, Romania
AFFILIATIONS
The Visual Artists Union of Romania (UAP)
Visarta 
PROFESSIONAL ACTIVITY
2018 – present  visual art teacher – School Number 178 (Bucharest), School Number 1 (Mogoşoaia), High School "Ioan Petruş" (Otopeni)
2017 – 2018  teacher – School Number 2, Sinteşti, Ilfov county
2014 – 2017  church painter, Daniel Codrescu team
2010 – 2014  "Dot's Shop" (handmade jewelry) owner
2008 – 2010  marketing manager at "Lee Cooper Jeans"
2007 – 2008  designer at Ikea, Bucharest
2004 – 2007  visual art teacher – High School "Dimitrie Paciurea", Bucharest
ARTISTIC ACTIVITY
Solo Exhibitions
2019 – "Facerea" ("Genesis"), Nadina Pascariu Gallery, Bucharest
Group Exhibitions
2021 – "Du-mă acasă, măi tramvai", Nadina Pascariu Gallery, Bucharest 
2018 – "Niculene", Nadina Pascariu Gallery, Bucharest | Art Salon, Bucharest | Small Sculpture Salon, Bucharest | Open Studios, ICR, Bucharest
2017 – Small Sculpture Salon, Bucharest | "Sculptors' Drawings", Tipografia Gallery, Bucharest
2016 – Small Sculpture Salon, Bucharest
2015 – National Biennale of Small Sculpure "The Age of Bronze", Cluj
2013 – National Biennale of Small Sculpure "The Age of Bronze", Cluj | Spring Salon, Muzeul Țăranului Român, Bucharest
2012 – group exhibition at Șuțu Museum, Bucharest | "Absence with Memory", Bucharest | National Art Salon, Simeza Gallery, Bucharest
2011 – "Biblioteca vie" – "Atelierul" Magazine, Bucharest | "Open Studio November", Bucharest | Small Sculpture Show, Bucharest
2010 – Small Sculpture Show, Bucharest | "Gheorghe Petrașcu" Biennale, Târgoviște
2009 – National Biennale of Small Sculpure "The Age of Bronze", Cluj | Small Sculpture Show, București | "Sculptors' Drawings", Bucharest
2008 – Small Sculpture Show, Bucharest | "Gheorghe Petrașcu" Biennale, Târgoviște | "Sculptors' Drawings", Căminul Artei Gallery, Bucharest
2007 – Small Sculpture Show, Bucharest
2006 – Small Sculpture Show "George Apostu", Bucharest
2004 – "Gheorghe Petrașcu" Biennale, Târgoviște | group exhibition at ArtExpo Gallery, Bucharest
National and International Symposiums
2010 – National Stone Sculpture Symposium, IOR Park, Bucharest
2008 – International Wood Sculpture Symposium, Roșița, Bulgaria
2008 – Private Marble Sculpture Symposium, Slănic, Prahova
2006 – International Ceramics Symposium, Troyan, Bulgaria
Monumental Works
2012 – monument dedicated to the personality of the Patriarch Teoctist
2010 – "Icarus – The Pain of Helplessness", Titan Park, Bucharest
Awards
2011 – The second prize for Gheorghe Dinică bust solutions contest, Bucharest, National Institute for Heritage (INP)
2008 – The third prize for sculpture at "Gheorghe Petraşcu" Biennale, Târgovişte
2004 – The first prize for sculpture at "Gheorghe Petraşcu" Biennale, Târgovişte
Painting
"Facerea" / "The Genesis"